Sarathi Mentorship Program
MENTORSHIP COMMITTEE-SARATHI
| | |
| --- | --- |
| CHAIRPERSON | DR. USHA RADKE (DEAN) |
| CO-CHAIRPERSON | DR. S R SHENOI (VICE-DEAN) |
| CHAIRMAN | DR. NEELAM PANDE |
| MEMBER SECRETARY | DR. VARSHA UTTARWAR |
| CO-ORDINATORS | 1st BDS- DR. JAYASHREE JOSHI |
| CO-ORDINATORS | 2nd BDS- DR. VARSHA UTTARWAR |
| CO-ORDINATORS | 3rd BDS- DR. PRITAM KHORGADE |
| CO-ORDINATORS | 4th BDS- DR. SAEE DESHPANDE |
| CO-ORDINATORS | INTERNS- DR. DHAWAL MODIE |
| CO-ORDINATORS | PGS- DR NEELAM PANDE |
Functions & Objectives of the Committee
To look into and solve the problems faced by the students with regard to academics, interpersonal, social & psychological issues.
To guide & counsel the students for better outcome with regards to attendance, academic performance and evaluation of shortcomings by suggestive interaction.
To organize student/parent meetings with staff for better understanding & development.
To provide emotional support to students with better student-teacher relationship.
To develop overall positive approach of students towards learning.
"Mentorship is an informal relationship between a student and a professional adult to promote the students knowledge, skills or career. Mentors can provide personal and professional support to the mentees and can give advice and guidance regarding their career prospects and share their personal experiences which can be helpful to them.
Orientation programmers are carried out for the students of all years to sensitize students towards their expected behavior with faculty, colleagues, juniors and regarding their appropriate behavior in the campus through the book on code of conduct. Workshops on communication skills are carried out for language and communication skill development of the students by the mentors.
There are three mentor-mentee sessions in an academic year. But mentees are free to approach their mentors as and when the need arises.
1st session: – Ice breaking games and introduction
2nd session: – Discussion with mentees regarding their strengths and weaknesses in academics. Interaction with mentees on the following topics-
Research avenues
Quiz/Essay competition
Seminars/Poster presentations
Pedagogy
Dental materials (Best from waste)
Discipline, Rules, Regulations
MUHS/DCI regulations
Games
Family History
SVSPM Family Information/li>
Anti ragging committee and punishment for ragging
Physical & Mental health related issues
Exercise & Diet
Meditation
Social media pros & cons
Improvement of communication and language skills development.
Hidden talents-any extracurricular activities or any areas of passion.
3rd session: – Guidance regarding preparation of exams, stress management, time management. The mentoring session's help in developing leadership skills as the mentors provide a helping hand and encourage the mentees to go that extra mile to attain their goals.
Parent –Teachers meetings
Parent –Teachers meetings are held twice in a year. On the day of the PTM the parents are briefed about the mandatory rules of MUHS regarding the attendance and completion of students' projects. Feedback is collected from the parents, analyzed and discussed thoroughly by the ug cell, mentors in presence of the Dean for necessary action to be taken. " Parents are informed about their ward's academic performance and attendance via email individually by their mentors. "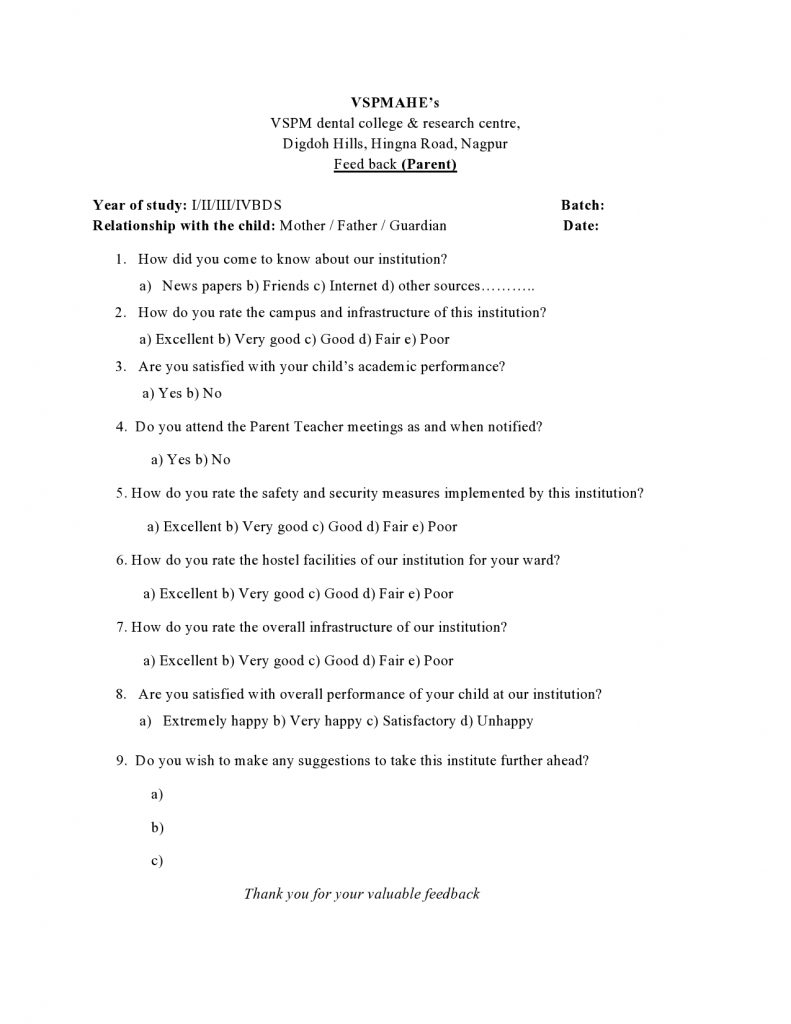 Sr. no
Date
Name of the Activity conducted
Details of the Activity
1.
Three in a year
Mentor-mentee interactions
Guidance to the mentees regarding their personal, academic problems as mentioned in detail in the reports submitted by mentors
2.
03/01/2020
First BDS
Mentors interacted with the parents and there was a discussion regarding the attendance & PCT marks of the students.
3.
27/12/2019
Second BDS
Mentors interacted with the parents and there was a discussion regarding the attendance & PCT marks of the students.
4.
19/12/2019
Third BDS
Mentors interacted with the parents and there was a discussion regarding the attendance & PCT marks of the students.
5.
18/12/2019
Final BDS
Mentors interacted with the parents and there was a discussion regarding the attendance & PCT marks of the students.
6.
22/10/2019
Fresher's Day program
It was organized by 2nd year students to welcome the 1st year students under the guidance of Dean Madam and all 1st & 2nd year mentors. It was marked by a lot of fun filled activities and games. Personality contest was held-
Mr VSPM- Miss VSPM-
7.
19/10/2019
First year -orientation programme
Dr Usha Radke (Dean) administered the oath to the first year students. Dr Neelam Pande talked about the Mentorship program-SARATHI and the White Coat Ceremony and introduction of first year mentees with their respective mentors was done by Dr Varsha Uttarwar along with the first year mentors.
8.
26/09/2019
4th year-Orientation program
Students oriented regarding discipline, code of conduct, gender equity and mentorship programs
9.
25/09/2019
3rd year-Orientation program
Students oriented regarding discipline, code of conduct, gender equity and mentorship programs
10.
24/09/2019
2ndyear-Orientation program
Students oriented regarding discipline, code of conduct, gender equity and mentorship programs